What is BREEAM?
BREEAM® (Building Research Establishment Environmental Assessment Method) is one of the global leading green building rating systems that is used to measure the environmental performance of new and existing buildings. 
BREEAM® assessment is widely is recognised by construction and property sectors as the benchmark for best practice in environmental design and management. 
The BREEAM green rating system was introduced in the United Kingdom in 1990 by the British Research Establishment (BRE) as the world's first comprehensive green building rating system for office and residential buildings.
Over the last few decades, BREEAM  has gained a strong market recognition worldwide. According to BRE, the British BREEAM rating is currently used in more than 60 countries with over 532,000 buildings certified worldwide (78 million square metres of floor space assessed) and an additional 2.21 million buildings now pursuing BREEAM® certification*.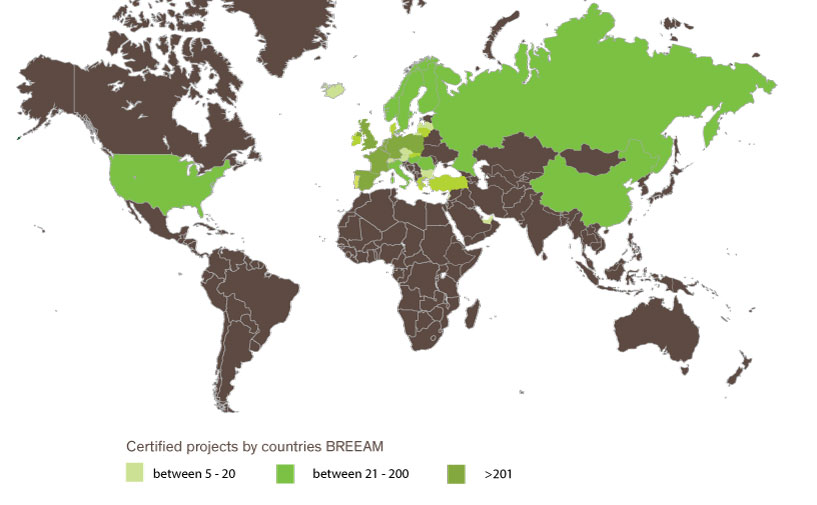 Although BREEAM® is still a voluntary scheme, the majority of local authorities in the UK have incorporated the building certification system into their planning process as a mandatory requirement for new buildings.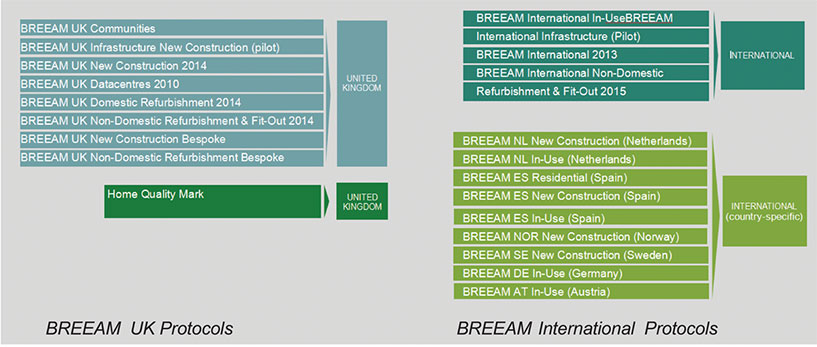 How BREEAM® works
BREEAM® rating system is a highly flexible and it is used to assess buildings of any type. It can be applied to new developments, refurbishments and fit out projects, building retrofit operations and maintenance. Non-standard buildings can be assessed against tailored criteria under the BREEAM® Bespoke assessment.
In order to encourage even greater international acceptance, both a BREEAM® International scheme and country-specific BREEAM® ratings were developed.

BREEAM® assessment uses recognised measures of performance to evaluate the building's specifications, design, construction and use. These measures are set against nine categories and benchmark criteria, including:
Energy: building operational energy and CO2 emissions
Management: management policy, commissioning, site management and procurement
Health and Wellbeing: indoor and external issues (noise, light, air, quality, etc.)
Materials: environmental impacts of building materials
Transport: transport-related CO2 and location-related factors
Water: building consumption and efficiency
Waste: construction and operational waste management
Pollution: water and air pollution
Land Use & Ecology: site and building footprint and ecological value and conservation.
Each of the criteria is scored and then multiplied by a weighting. According to the targeted rating level, there are minimum thresholds that must be achieved. Additions can be made for specific innovations. The resulting overall score is then translated into a rating on a scale of BREEAM® certification levels: pass, good, very good, excellent and outstanding.


BREEAM® assessments are carried out by independent assessors in two stages: a design stage assessment, resulting in an interim certificate being issued, and a post-construction assessment, resulting in a final certificate being issued and rating awarded.

* Source: BRE