In the past decades the UK construction industry has heavily invested in energy performance improvements of new and existing buildings. Energy efficient measures that reduce the buildings operational carbon emissions typically include passive design principles, optimised building fabric efficient building technologies and renewables for onsite energy generation. On the other hand, the analysis of embodied carbon and material efficiency is equally important to achieve truly energy efficient buildings. The future best-practice will significantly depend on the way the embodied and operational carbon emissions are balanced and optimised.
Lifecycle performance and planning process
London is at the forefront of sustainability, as a result, a number of local councils are now considering long term sustainability appraisals with applications for new developments on the basis of embodied carbon and lifecycle performance. In recent planning applications, the Royal Borough of Kensington and Chelsea have requested studies to determine the overall CO2 emissions of alternative schemes on the same site. The options included: 
refurbishment and extension of the existing dwelling, and demolition of the existing and
construction of a new dwelling of same scale.
The life cycle analysis demonstrated that the new dwelling will have 47% less carbon emissions at the end of 60 years compared to existing building. This included carbon emissions associated with demolition, disposal and transport of new materials.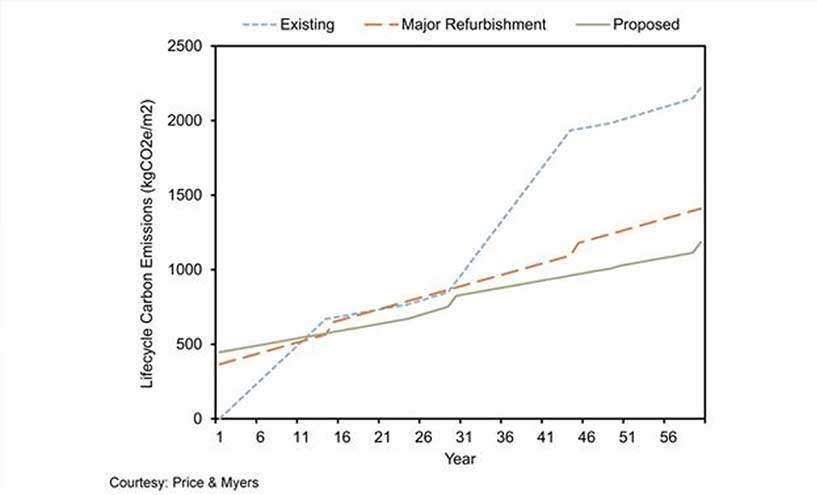 These studies show that to avoid a new performance gap, equal attention needs to be given in the analysis of the embodied carbon as with the analysis of the operational carbon. To achieve this, key developments will be necessary.
Methods and Data
Across the industry there is a continuous debate around the way embodied carbon emissions are calculated and reported. With that in mind, designers and project teams often have difficulties finding appropriate embodied carbon data necessary to perform the relevant analysis. BRE's Green Guide was the starting point but now there is even more demand for a comprehensive sustainable material database. Material inventories could be organised around Environmental Product Declarations (EPD) that are prepared by certified lifecycle assessors on behalf of manufacturing companies. Even though data accessibility and availability is clearly important, that alone cannot guarantee a robust embodied carbon analysis. Effective modelling of embodied carbon emissions based on a standardised methodology is equally important. RICS have recently announced a practical guidance on how to calculate embodied carbon emissions for building projects. This is a major step forward that will allow a standard approach to carry out Whole Life Carbon assessments across the industry.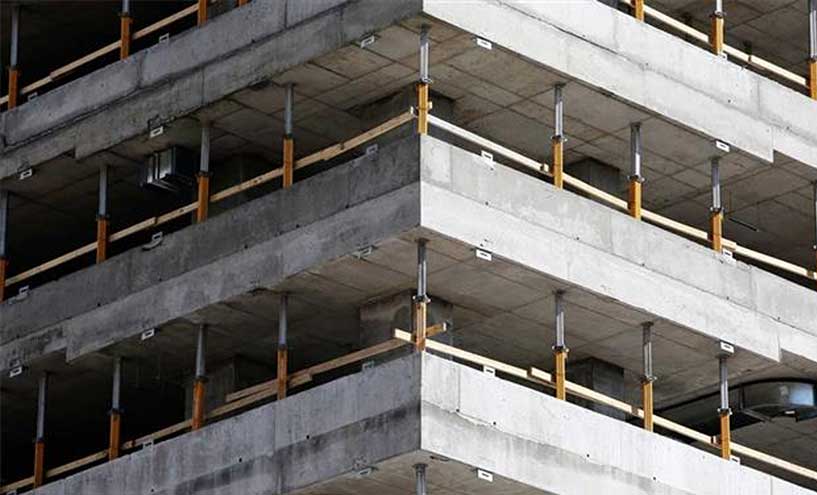 Design and Technology Integration
A better integration between project teams could improve the way embodied carbon analyses are planned and delivered. If the embodied carbon analysis is performed early it has the potential to better inform the entire decision-making process. Typically, embodied carbon metrics are used to assess different types of materials (Concrete vs. Steel, Steel vs. Timber, etc.) for comparative purposes post design completion. However, the embodied carbon emissions of a system should be optimised at scheming phase to maximise its potential savings. Building designs that are optimised for both the material efficiency and energy use would result in truly sustainable buildings. The use of digital technologies could help better integrate these different analysis level in a timely manner. BIM in particular has the potential to transform the way embodied carbon analysis is delivered and integrated with other early stage design interventions (energy, daylight, cost, etc.). Good application examples include Tally, One Click LCA and IES Impact  among others.
Policy Reconciliation
Little work has been done at policy level to endorse buildings material efficiencies. Currently the operational carbon emissions of domestic and non-domestic buildings are appropriately analysed through a standardised procedure in Part L. Similarly, new guidelines or design targets would be necessary to ensure that the whole life carbon emissions are analysed and reported across the industry. Additionally, if every member of the design team (architects, structural engineers, services engineers, etc.) is encouraged to improve the material efficiency of their design solutions, embodied carbon emissions would be effectively reduced. New procurement mechanisms that incentivise and reward high-performing schemes and teams would significantly contribute towards that direction. A good example is the new BREEAM 2018 which includes credit allowances based on life cycle analysis merits, rewarding proactive design teams that are involved early in the design development.
Overall, systematic efforts are required across the three levels previously described to ensure that buildings are procured, designed and delivered in a cost-effective manner whilst balancing their operational and embodied carbon emissions.