LEED® is a voluntary rating system that provides building owners and operators with a framework for identifying and implementing practical and measurable green building design, construction, operation and maintenance solutions.
LEED® is an industry-recognised mark of excellence for high-performance sustainable building and property industry. To date it has been adopted in more than 150 countries and territories worldwide. Since 1994 more than 41.500 projects have been awarded LEED® certification, equivalent to 391.2 million of meter squared of floor area assessed, and an additional 42.600 buildings are currently pursuing LEED® certification.*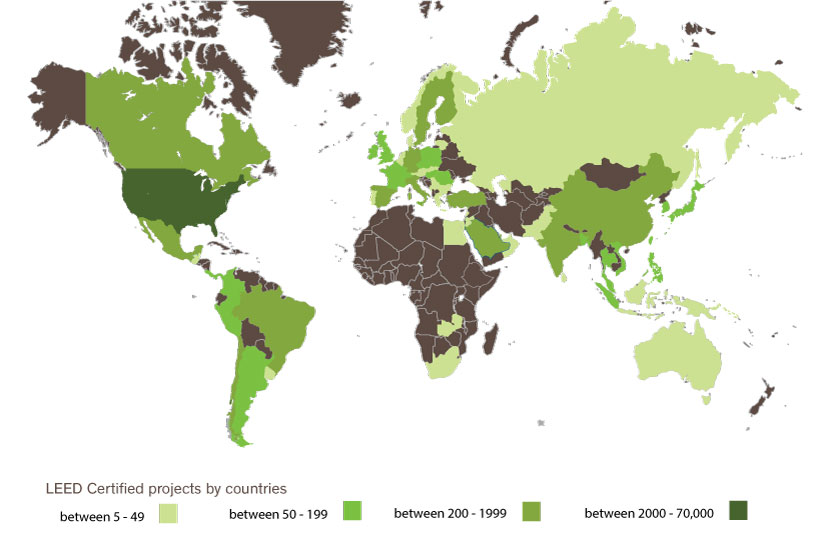 How LEED® certification works
LEED® rating system provides an independent, third-party verification that a building, home or community was designed and built by using strategies aimed at achieving high performance in key areas of the environment and human health. LEED® green building rating system is flexible enough to be applied to all building types – including commercial, residential and entire neighbourhood communities. It works throughout the building's life cycle – as well as design and construction, operations and maintenance, tenant fit-out and significant building retrofit.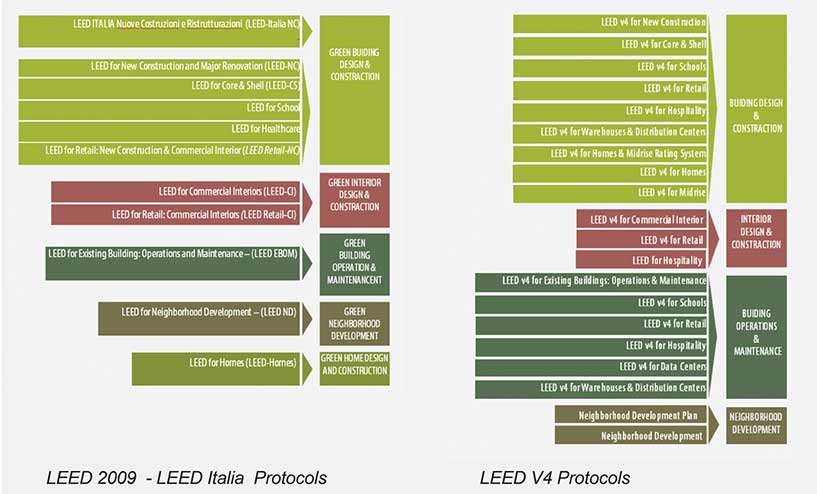 The building's environmental impact and performance are evaluated by using a whole-building approach to sustainability. LEED® certification is awarded when a building project has satisfied all the prerequisites and earned a minimum number of credit points by adopting sustainable strategies in relation to building energy efficiency, water savings, building materials selection, indoor environmental quality, location and transportation, site development, innovative strategies and regionally focused priorities. A total of 110 possible credit points are available to LEED® applicants.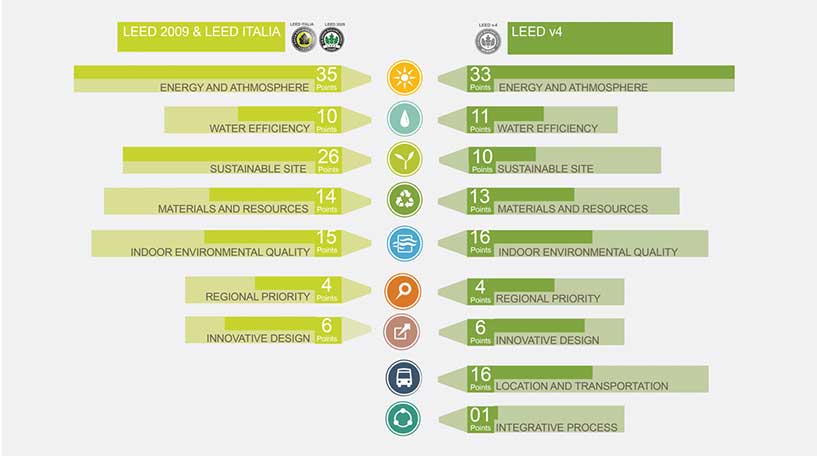 The number of LEED® credit points earned by the building determines the level of LEED® certification: Certified: 40–49 points, Silver: 50–59 points, Gold: 60–79 points, Platinum: 80+ points.

LEED® v4
With LEED® version 4, the newest release of the LEED® rating system, strong emphasis is given on product data transparency. In fact, LEED® v4 has introduced specific mechanisms, such as life cycle assessment, environmental product declarations and material ingredient reporting, aimed at making data-driven decisions focused on building's high-performances, human health and wellbeing.
The earlier version of the rating system, called LEED® 2009 or LEED® v3, was phased out in 31st October 2016. Building projects registered under LEED® 2009 can submit for certification until the sunset date of the 30th June 2021 or can upgrade to the current version. LEED® v4 is instead the only option available to new registration.

LEED® Italia 2009
A country-specific version of LEED® 2009 for New Construction and Major Renovations was developed for Italian projects by the Green Building Council Italia. Credits requirements may vary from the original LEED® version, as the rating system is adapted to the Italian and European regulatory standards. Registration under LEED® Italia 2009 Nuove Costruzioni e Ristrutturazioni are no longer available to projects since the LEED® 2009 was closed in October 2016.

* Source: USGBC
All graphs ©ongreening