The pioneering scheme for Burry Port Community School is enjoying its first year in occupation, following a 12-month on-site delivery programme. Awaiting Passivhaus certification, it is set to become the first Passivhaus School in Wales.In a collaborative design process between Carmarthenshire County Council, and architects, Architype, this groundbreaking project is an outcome of Wales 21st Century Schools Programme; an investment fund by the government that is set to change the face of education in Wales.
The £3.8m scheme unites the town's infant and junior schools, accommodating a total of 210 pupils and a 30-space nursery class on the existing Elkington Road site, under the known name of 'Burry Port Community Primary School'.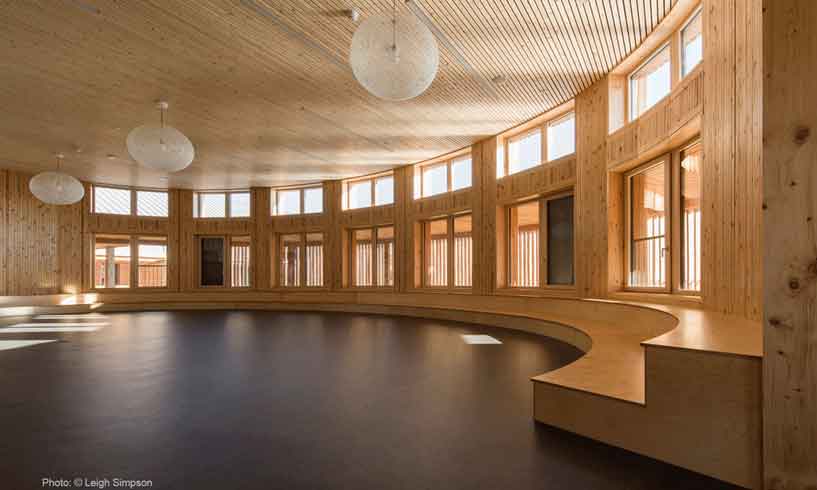 The extended block has been designed to accommodate the key-stage two pupils, and comprises of four new classrooms, as well as two further teaching spaces, staff and meeting room facilities. The original school building has been refurbished, with spaces rationalised and a number of environmental defects resolved. Sitting between the new and old buildings, a dynamic multi-use 'pod' building offers group recreation and performance space, and is an important statement towards the schools commitment to sustainability.
Why PassivHaus
The choice of opting for Passivhaus, lies with Carmarthenshire's ongoing commitment towards long-term sustainability, with the standard providing the most rigorous energy certification in Europe. Based on simple, robust principles, the standard depends on high quality design and thorough construction with a focus on continuous airtightness, insulation, and solar gain to deliver exceptionally low energy performance and high internal comfort.
Sustainability
Besides the Passivhaus credentials, this exemplar project has taken sustainability a step further, with both new buildings specified entirely in welsh timber. The stand-alone elliptical pod building is the focal point of this and marks the first brettstapel school building in the UK. Brettstapel is a lesser-known construction type that originates from Germany that makes use of fast growing, low-grade soft wood, a resource readily available on the welsh market. The dry-fit system reduces the need for intensive manufacturing methods, and eliminates the use of toxic glues or bonds.
Visually the development evokes a strong connection to nature, from the timber cladding and construction to the wood fibre, ply finishes and Brettstapel aesthetic. Met with the profound efficiency of Passivhaus, the new extension will truly reflect the schools commitment to ecology (as members of the eco-schools committee), and will become a benchmark within the region for future sustainable development and an exemplar for the 21st Century Schools Programme.
The Passivhaus building, currently awaiting accreditation, will to support the school operations, delivering a continuous low- energy healthy building that will benefit from dramatically reduced utility bills, in the region of a 70% – 90% saving on a similar traditional build.
See further project details and pictures gallery here