This 11-storey building, which is stretched across a 330m long plinth, has been dubbed the Google Landscraper for being as long as a skyscraper is tall. The new London headquarters, designed by Heatherwick Studio and Bjarke Ingels Group (BIG), will provide more than 76,000 sqm office space, above a 4,400 sqm retail area at ground floor and 11,054 sqm of basement floor space spread across Two levels. Large continuous floor plates with cascading work environments will connect more than 4,500 Googlers across multiple floors.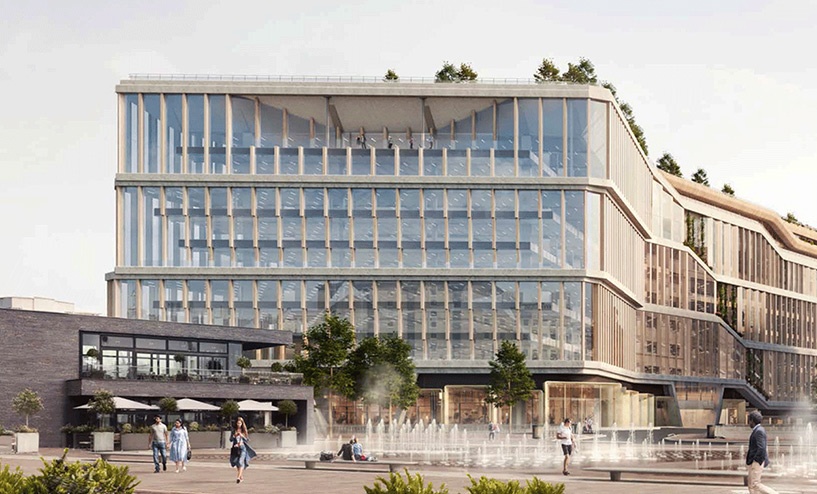 The building will be located on the north side of King's Cross and St. Pancras Stations, which has been redeveloped over the last decade as a mixed use urban neighborhood. Combined with the current building at 6 Pancras Square and an additional third building, the new headquarters will create the Google Campus with the potential to be home to 7,000 Google employees.
" The new Google Campus is deeply rooted in the local character of the area, " says Bjarke Ingels, Founding Partner at Bjarke Ingels Group.

The sawtooth cladding profile of the east and west facades shows an expanding and retracting rhythm of glazing and timber mullions, which echoes with the scale and direction of the same language of the adjacent large-scale infrastructure of the King's Cross station.
Healthy indoor finishes and cutting-edge technologies
As you would expect from Google, forward-thinking design and innovative solution, designed to create places in which people enjoy working, will permeate the building indoor areas.
The google's campus will offer Googlers and visitors a set of cutting-edge ancillary spaces including cafe/restaurant spaces, multi-function games areas, treatment/massage rooms, fitness suite and swimming pool facilities along with an event center and staff training facilities.
The meticulous attention is spent on the selection of interior finishing materials focused on promoting the health and wellbeing of occupants.
The material selection strategy will use BREEAM and LEED criteria as benchmark and, where possible, the specifications of the project will include materials that have obtained an Environmental Product Declaration (EPD), BRE ratings of A or A +, Health Product Declaration (HPD ) and FSC or PEFC Chain of Custody certification in case of timber-based materials.
Highly energy efficient and solar-coated glazing will be set between bespoke timber mullions across levels 1 to 7 and separated horizontally by three pre-cast concrete slabs. Intermediate floors between the slabs will be 'hung' from the concrete structure and use cross-laminated timber ('CLT').
At the ground floor, glazed shop fronts will be framed with bronze colored metal cladding.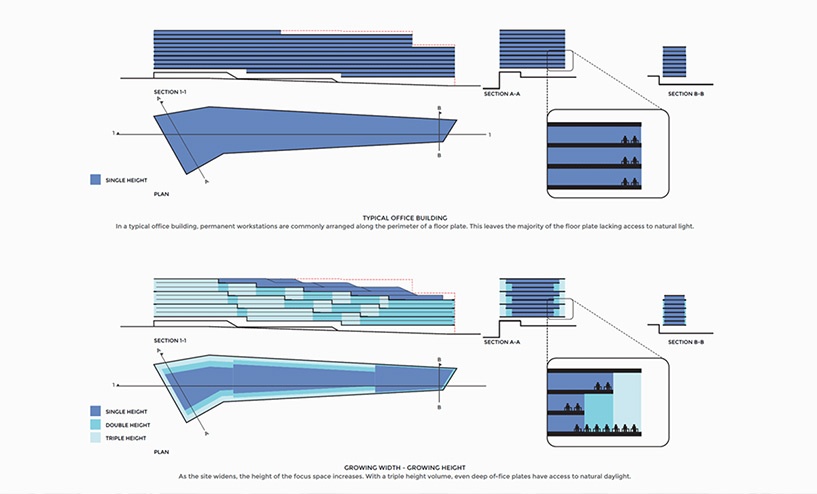 An innovative workplace – Desk concept
Google is looking to create an inspirational place for its employees. To achieve this, the design team has envisaged three large continuous stacked floorplates that provide a set of single, double and triple height workspaces with a unique volumetric quality.

These warehouse style floorplates provide the opportunity to create continuous desk space and a flexible working environment that is able to change as the business and ways of working evolve.

The floors in between the three main floorplates are hung from those above, representing an unusual structural solution that allows a column free perimeter and creates spaces with different characters to support workspaces and ancillary uses.

The atria, traditionally in the middle of the building, can therefore be moved to the perimeter, and combined with higher than normal floor to floor heights, brings natural daylight deep into the building, no matter its physical context.

Thomas Heatherwick, principal at the Heatherwick Studio, said: "Influenced by these surroundings, we have also treated this new building for Google as a piece of infrastructure, made from a family of interchangeable elements that ensure that the building and its workspace will stay flexible For years to come. "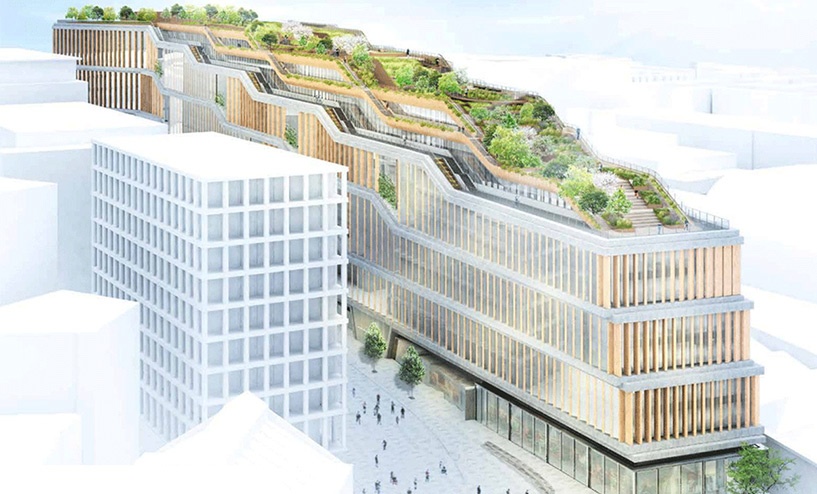 Green Building Certification
Both BREEAM and LEED (Leadership in Energy and Environmental Design) v4, the world's most recognised certification programmes for green buildings, are sought for the proposed mixed-use development. The sustainability design team, led by the multidisciplinary consultancy firm Mott MacDonald, is currently commitment is to achieve BREEAM Excellent rating and LEED Gold rating, but with an aspiration to rich higher sustainability levels gaining 'Outstanding' and 'Platinum' ratings respectively.
A large vegetated roof 
An interesting roofscape including landscaped terraces, 3,800 sqm green roofs (approximately 40% of the total roof area) and a 200-meter walking Trim Track will provide exclusive outdoor amenity and recreation spaces for the Googlers and their visitors. This large green roof, which includes a lawn and wildflower plantation as well as trees and tall shrubs, is designed to enhance the ecological value of the site and to promote biodiversity while attracting wildlife. In addition, a number of beehives will be allocated across the landscaped roof.
Passive Design and Energy Efficiency
A combination of passive design techniques, including exposed concrete soffit ceiling helping to stabilise the internal temperatures by flattening daily cooling load peaks, a number of energy efficient measures and the sourcing of heat and power from the low-carbon district energy system (gas fired CHP) will led to an overall annual carbon reduction of 22.0% compared to current Building Regulations (Part L 2013) baseline.
Active Design Strategies
Energy efficient light-emitting diode (LEDs) complete with advanced demand-led controls such as daylighting dimming sensors to utilise natural daylight, occupancy sensors, time control option for all internal and external lighting, will be installed throughout the building.
Variable speed pump sets, energy sub-meters will be installed to facilitate the monitoring of substantial energy uses and high energy demand areas within the building. A Building Management System (BMS) will be installed to monitor and control the building services, thus minimising energy-inefficient operation.
The mechanical ventilation system will be fitted with heat recovery to significantly reduce the need for additional heating in winter, plus thermal wheel on centralised ventilation plants (AHUs) to reclaim heat and coolth from the exhaust air that would otherwise be lost to atmosphere. In addition, the proposed air conditioning system will run in free cooling mode when the external temperature permits. It is proposed that the open plan office areas will be fitted with very energy-efficient underfloor air displacement ventilation.

A photovoltaic array with an output of 19,800 kWh annually, will be installed on the large available non-shaded roof area.
Other sustainability measures
Other key environmental sustainability measures include grey water recycling, rainwater attenuation and reuse via a blue roof system, low flow water fittings, greenery and amenity rooftop facilities for staff, thorough energy and water metering and monitoring and use of materials with a low environmental impact.

Lendlease, the main contractor appointed for the development, is expected to start working on site next year aiming to complete the fit-out by early 2022.

Images and sources: Courtesy of Google, Heatherwick Studio, Bjarke Ingels Group (BIG), BDP